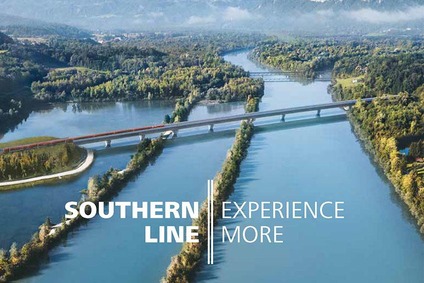 Southern Line– Dig into details
With the new south route clip you do not only dive visually into the universe south route: The video sequences from the projects Semmering Base Tunnel, Koralmbahn, Pottendorfer Line & Co are backed up with original construction site sounds!
See more. Hear more. Learn more.
suedstrecke.oebb.at
Transcript of video for reading

Southern route - Dig into details, pure filming, change of perspective

Construction site is shown.
In front of the two tunnel entrances a huge construction site has been created.
Everything from employee accommodation to the production plant is on this construction site.
The tunnel walls are moistened and measured.
Construction workers construct huge metal rods.
A small fleet of wheel loaders transports large quantities of rock out of the tunnel.
Specially trained specialists use explosives to clear new paths for tunnel construction.
A small railroad transports important materials for tunnel construction in and boulders out again.
On August 14, 2018, a huge tunnel boring machine will break through the Koralm Tunnel.
The finished tunnel walls will be specially coated once again.
A wheel loader removes the last remnants of rock.
The completed Koralmtunnel is shown.
Travelling and conveying of the future
As of 2030, trains will run from Vienna to Klagenfurt in 2 hours 40 minutes, and from Graz to Klagenfurt in 45 minutes. Over a total distance of 470 km, they will pass through many new railway stations and cross two mountains - the Semmering and the Koralpe - at high speeds.
The biggest projects along the Southern line are: the Northern line upgrade, the Vienna–Bratislava upgrade, the new Vienna Main Station, the Vienna South Freight Centre, the upgrade of the Pottendorfer line, the construction of the Semmering Base Tunnel, eight modernised railway stations on the route from Bruck to Graz, the modernised Graz Main Station and the new 130 kilometre-long Koralm railway. Together, they put in place the prerequisites for passenger and freight services of the future.
Current construction projects on the Southern Line