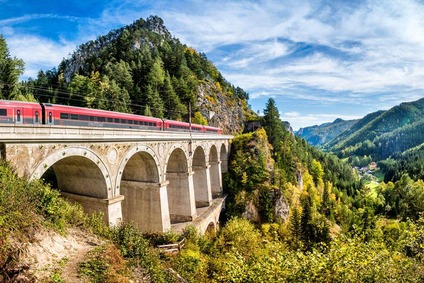 Past rock faces, through picturesque valleys and over historic viaducts: For over 160 years, the Semmeringbahn has connected the Lower Austrian town of Gloggnitz and the Styrian town of Mürzzuschlag.
With around 180 trains per day, it is one of the busiest routes in Austria. To ensure you have a good journey as a passenger, ÖBB-Infrastruktur is refurbishing this mountain line and its railway stations.
Lifeline for the region
Both commuters and the regional economy are profiting from the modernisation. Because the Semmeringbahn is part of the Southern Line, which connects the provincial capitals of Klagenfurt and Graz with Vienna. From 2027, a new, modern high-speed section will head south through the Semmering Base Tunnel. That will take the strain of the heritage-listed mountain section, which is a UNESCO World Cultural Heritage site.
Your benefits
Safe and punctual connections
Contemporary and wheelchair-accessible railway stations
Modernised track systems
Protection of the historical monument for the future