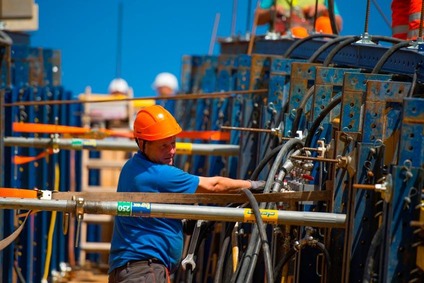 Investing in the rail infrastructure is the basis for the economic development of our country. We invest almost three billion Euros for a modern, efficient infrastructure and as an employer we promote the development of Austria as a business location. Companies, cities, regions and people benefit from an attractive, sustainable rail system.
Growth and employment
The rail system is an important economic driver with high added value for growth and employment. A well-developed transport infrastructure creates the backbone of efficient national economies. Without outstandingly developed transport routes and efficiently provided transport services, collaborative economies would not be possible. Every billion Euro of investment creates and secures about 15,000 jobs.

Positive effects
The overall analysis shows that investment in rail infrastructure has highly positive effects on economic growth and employment and has a stabilising effect on the national economy. Investing in the railway makes good sense.
In terms of business economics operating costs can be reduced and income can be increased. The national economy benefits from investment in railway construction and expansion in several ways. During the construction phase service providers and construction companies connected with the work receive remuneration (direct effects) and in addition demand is increased for suppliers (indirect effects). This leads to more employment. Additional income in the form of wages, salaries and profits also increases private consumption. Returns on Value Added Tax, payroll tax and social insurance contributions increase.

Rail system as a location factor
During the operational phase the improvement in the location quality makes the regions more accessible and opens them up. Fast, comfortable connections between conurbations link people and markets. This favours location development, secures and creates permanent employment. An efficient railway infrastructure is not only an important location factor, it is also the condition which must exist, if we are to cope with the increasing mobility of people and freight in an environmentally-friendly way. A well-developed infrastructure creates ecological uses, supports climate objectives, especially in the area of reduction of CO2. An additional factor is that is becomes an initiator of projects for the innovative Austrian rail industry.