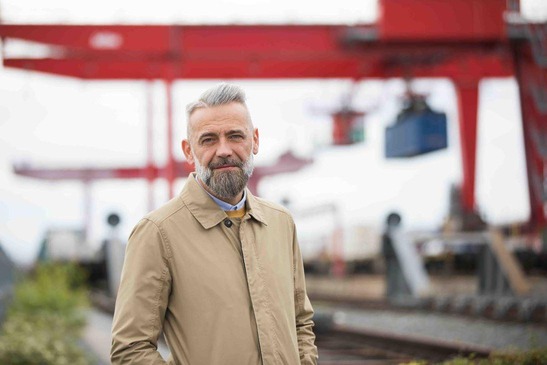 Stefan Haizinger - new Terminal Manager Wels
Stefan Haizinger is the new manager of Terminal Service Austria's Wels terminal since 3 October 2022. The trained businessman and passionate freight forwarder from Upper Austria brings many years of experience in the fields of intermodal, freight forwarding, transport, purchasing and logistics and most recently worked globally for the Lenzing Group. He has several years of management experience and will support us in achieving our corporate goals by taking significant steps.
We are pleased to have won Stefan Haizinger for our team and wish him much joy and success in his new tasks.
October 2022
Villach Süd terminal offers extra service
Since the beginning of May, the team at the Villach Süd location has been carrying out a special project for a new customer: Reloading new saw machines in parts up to 13 metres long. This is a challenge for man and machine, but our colleagues on site have completed the first unit to the customer's complete satisfaction. The goods arrive by truck, are temporarily stored at the terminal and transported to the recipient by rail according to the order. The total volume is about 100 truckloads, which are loaded onto the environmentally friendly rail in various units in Villach South. This shows once again that we as a terminal are taking the next step towards becoming a multimodal goods handling centre.
May 2022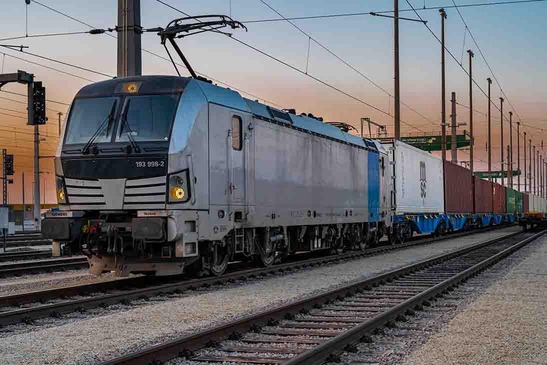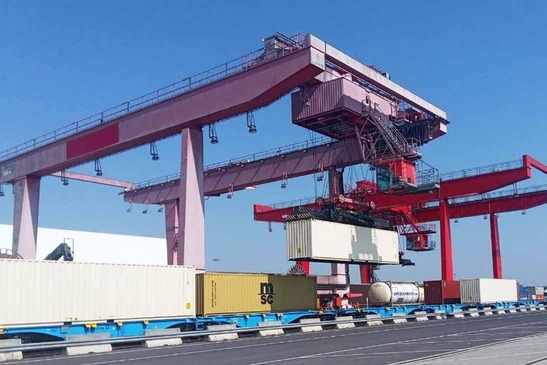 We welcome a new customer for the locations Vienna/Wels towards Nordhafen
We welcome our first maritime block train from Ecco Sped at the terminal in Wels. It starts at the Terminal Wien Süd and is regularly en route to Hamburg. Two round trips per week are available to the shipping industry.
This is another train product that relieves the roads and contributes to CO2 savings by transporting goods by environmentally friendly rail.
Favourable increase
The demand for environmentally friendly, intermodal freight transport is steadily increasing. As early as 2021, the transport volume on the Austrian rail network has almost reached pre-Corona levels. Whereby Terminal Service Austria recorded an increase in ITE of more than 7 percent above pre-crisis levels.
This is a development that we are very pleased about and which we are continuing to drive forward with our services at the terminals. For example, through our high-performance, efficient goods handling with the corresponding terminal logistics including digital solutions.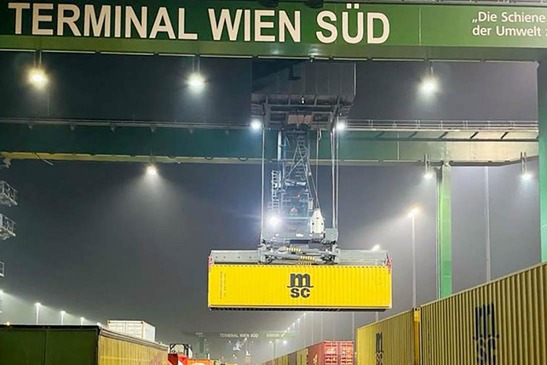 MSC expands product portfolio
Our long-standing depot customer MSC, the world's second largest shipping company, has also made an enormous leap in growth in the full container sector in recent years. Together with Lineas as train operator, three to four trains per week are run in each direction as dedicated company trains between Antwerp and Wien Süd via LEO shuttle. This has enabled the cooperation to be expanded and the existing partnership to be extended to three locations - Wien Süd, Villach Süd and Wolfurt. Terminal Service Austria is pleased to further intensify the business relationship with MSC. This will enable us to manage and increase our joint business on the environmentally friendly rail.
May 2022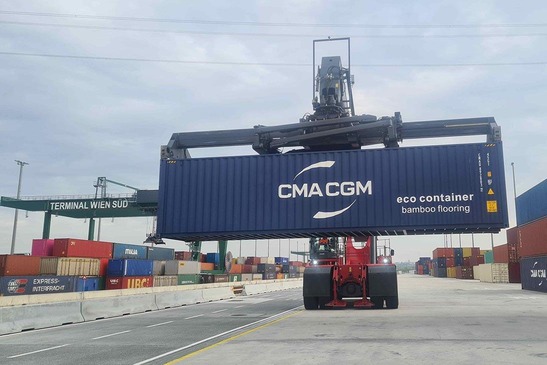 CMA strengthens its presence at Wien Süd
Since the opening of the Terminal Wien Süd, we have been working very successfully with our depot customers MSC and CMA. CMA recently expanded its depot capacity to almost double of its previous capacity. We continue to look forward to a good cooperation and many transport units for our location. This will allow us to jointly further expand the transports via the Terminal Wien Süd and, as a result, expand train products.
April 2022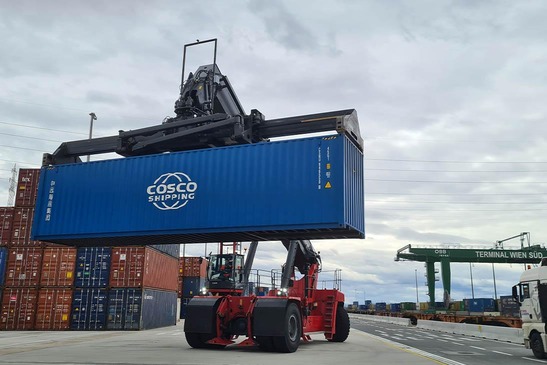 We welcome COSCO at the ÖBB Terminal Wien Süd!
Our colleagues were able to convince one of the world's largest shipping companies of the efficiency of our depot. The first containers have already arrived at the terminal. We are looking forward to a good, long-lasting cooperation and to regular container flows, which we are allowed to manage for the globally operating shipping company. In addition, COSCO has already been a satisfied customer at our Wolfurt site for many years.
March 2022
A sweet thank you
With the TSA "Krapfen"-event at Mardi Gras, we traditionally celebrate the good cooperation that is actively practised every day at the eight terminal locations of ÖBB Infrastruktur. This year, the colleagues once again distributed the round, jam-filled pastries. After all, what could be better than sweetening your working day with a thank-you treat like this one?
March 2022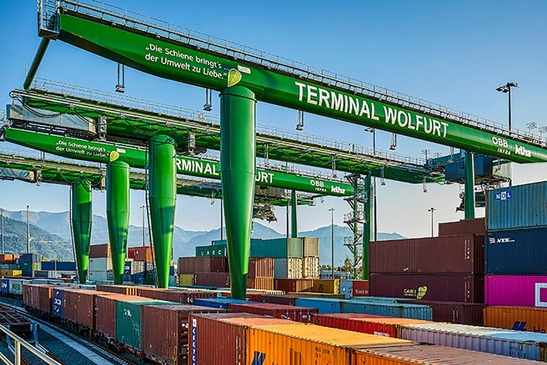 New train product Wolfurt - Widnau - Frenkendorf
Since February, Rail Cargo Group (RCG) in cooperation with Swissterminal, has been offering a new loop service three times a week from Wolfurt via Widnau to Frenkendorf in Switzerland. In Frenkendorf, the onward transport takes place to and from the Italian ports of Genoa and La Spezia on the Ligurian Sea, as well as to the two largest Western European ports of Rotterdam and Antwerp.
The new train product relieves the roads and ensures further CO2 savings due to the environmentally friendly rail transport.
March 2022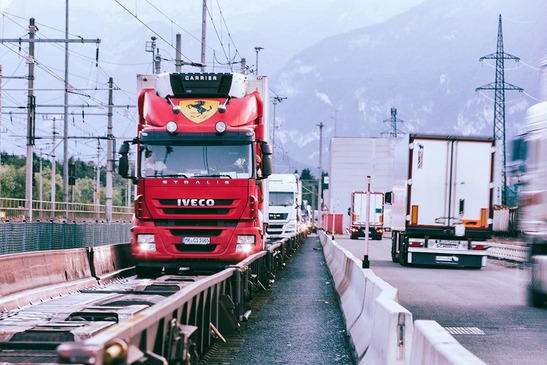 Its evident that ROLA is good for the environment!
More than 187,000 trucks were loaded and transported at the ROLA sites in Wels, Wörgl and Brennersee in 2021. That is 29 percent more than in the previous year. This shift from road to rail saved around 23,000 tonnes of CO2 - it would take 1.84 million beech trees to sequester this amount of CO2 per year. A real contribution to climate protection.
February 2022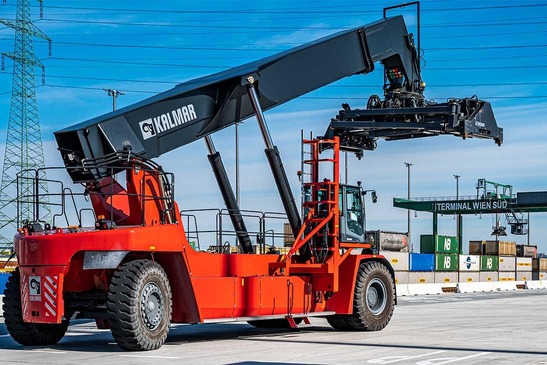 All on track for European freight transport in 2022 - through capacity expansions, modernisation and digitalisation.
Combined freight transport is becoming increasingly important in the international transport chain and as a terminal operator we have ambitious goals to make our contribution. Last year alone, we were able to attract new train operators to the terminals in order to transport even more goods in future by the environmentally friendly rail.
With the expansion of the Terminal Wien Süd, we have increased capacity and storage space for our customers by 50%. At the Terminal Villach Süd we were able to win a new customer for empty container depot operations, the Mediterranean Shipping Company (MSC), in addition to the existing major customer CMA. Over the past few years, we have already invested around 400 million euros in our seven intermodal terminals.
And the new ÖBB framework plan provides for further investments of around 135 million euros in capacity expansions, modernisation and digitalisation. We look forward to continuing on this path with you, in order to make a contribution to the shift of freight transport from road to rail and to further co-develop our range of services.
January 2022
Related blog - ÖBB Terminals: our contribution to European freight transport (German)
Reinhard Papp - our new field sales representative
In order to be able to pass on the extensive, well-founded knowledge of our current field service expert Hermann Ungersbäck before his retirement, Reinhard Papp has joined the sales team. He can draw on approximately 20 years of railway forwarding experience and is very familiar with the internal processes of the ÖBB Group. We are pleased that Mr. Papp has made his way to us and wish him much joy and success in his new tasks.
January 2022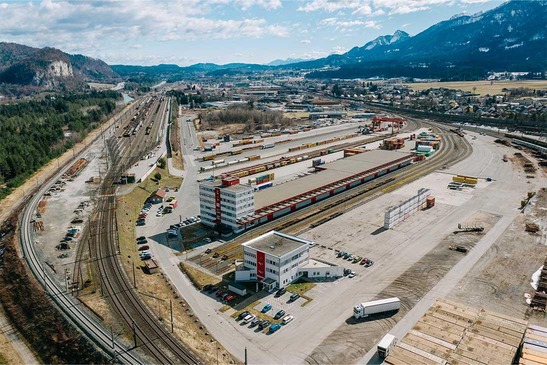 Further investments according to the new ÖBB framework plan
In recent years, around 400 million euros have been invested in our intermodal terminals such as Wolfurt and Vienna South. The new ÖBB framework plan provides for further investments of around 135 million euros. By 2027, we will invest in capacity expansions and modernisation, as well as around 4.5 million euros in digitalisation at the terminal locations in Wörgl (Rola), Villach, Wels and Vienna South. This will enable even more goods to be transported by environmentally friendly rail in the future.
November 2021
Future Rail, Target Network 2025+
ÖBB's 2022-2027 framework plan (German)
New video presentation of the Terminal Villach South
The product video presents the services of the TSA Terminal Villach South. Thanks to its favourable location in the border triangle and on the two TEN corridors, the terminal location is currently establishing itself as the leading hub for rail-related freight traffic in the Alps-Adriatic region.
November 2021
Watch video Terminal Villach South
Video gates for the terminals in Wien Süd, Wolfurt and Wels
In order to further optimise the processes at the terminal, it is crucial to automatically record the incoming and outgoing truck, container or semi-trailer movements. This increases our efficiency even further and a larger number of intermodal transport units can be processed.
July 2021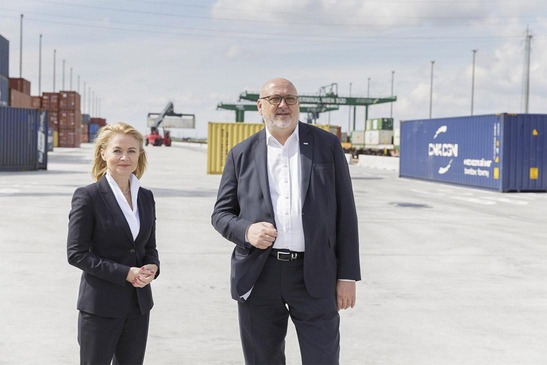 Completion of the second expansion phase at the Terminal Wien Süd
In the presence of ÖBB Holding CEO Andreas Matthä, the new forklift module was launched at the Vienna South Terminal. With the completion of the second expansion phase of the terminal, we will continue to meet customer requirements in the future and are thus pleased to be able to make a further contribution to shifting goods from road to rail.
May 2021
High-performance freight handling at the Terminal Wien Süd
ÖBB-Infrastruktur focuses on high-performance freight handling for the loading industry. As a neutral service provider, we offer our customers and business partners a wide range of services related to terminal operations. With our numerous terminal logistics services, we have succeeded in becoming the "central freight hub" in the eastern region in recent years.
May 2021
Product film Terminal Wien Süd
We would also make every effort to talk to rail transport companies, so that possible shuttle systems can be set up at short notice to enable a targeted departure and arrival at Villach South.
We are always available for enquiries and would be happy to support you in solving this current problem.
March 2021
New train product of the Hupac Group
From 6th March we will also be handling Hupac Group trains at the Wels terminal. The new round trip runs from the Dutch terminal Geleen RTC to Wels CCT and on to Vienna.
Hupac is the leading European network operator in intermodal transport and has been committed to innovative, reliable rail transport for over fifty years. The new train product not only strengthens the Wels terminal, but is also a sign that "combined road/rail transport" has become an important alternative in freight transport.
March 2021
Transcript of video for reading

The video shows the arrival of the first train of the Hupac Group at the Wels terminal. The departure station was the Dutch terminal Geleen RTC.
Freight transport: Premiere shuttle "LEO" arrives at the Vienna South Terminal
The success story of ÖBB-Infrastruktur's Vienna South freight terminal continues. The premiere shuttle "LEO" from Antwerp was received by TSA Sales.
March 2021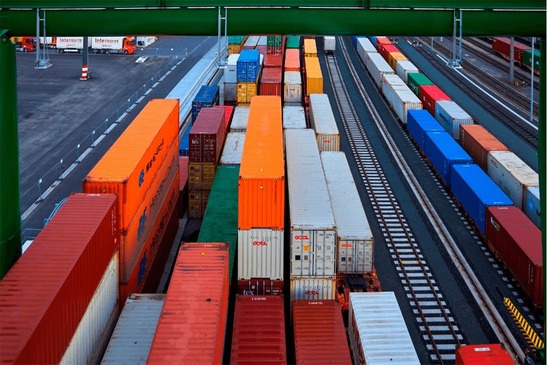 Wolfurt freight terminal becomes part of the German AlbatrossExpress network
From the timetable change on 13th December, TFG-Transfracht is expanding its AlbatrossExpress network in Austria to include the Wolfurt terminal. With a frequency of five departures a week in both directions and the faster transit times, the terminal location is strengthening its hub position in the entire Lake Constance region.
December 2020