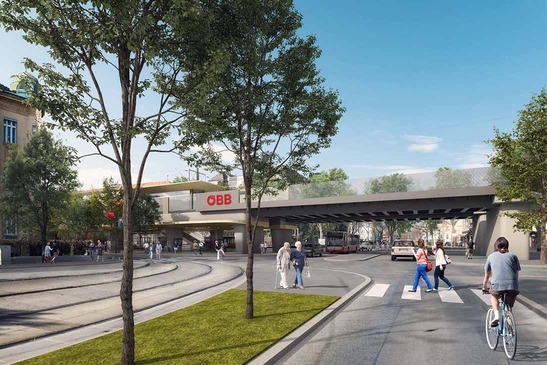 More quality and convenience in the city and beyond
With additional stops and a denser frequency on the S80, an attractive west-east connection is being created right across the city. In concrete terms: from Wien Hütteldorf via Wien Meidling and the Main Railway Station to the lakeside town of Aspern in just 30 minutes. By making the Connecting Line more attractive, an important piece of the jigsaw puzzle in the inner-city rapid-transit railway network is thus laid. Thanks to the connection to all five Vienna underground lines, the city centre can also be reached quickly. New stops with a total of 400 covered bicycle parking spaces, transfer possibilities to long-distance and regional trains, underground, tram and bus and the denser intervals allow for an attractive public transport offer with short travel times.
Permanently open crossing possibilities without waiting
Once the project is completed, railway crossings and tiresome waiting in front of closed barriers in Hietzing will be a thing of the past. All six restricted level crossings in the district will be closed and open, barrier-free and permanently available crossing possibilities will be created. This is not only practical, but also necessary, because even now, with the half-hourly cycle, the barriers are closed for an average of 15 to 20 minutes per hour. With a 15-minute interval of the S-Bahn, this would mean waiting times of 30-40 minutes per hour in front of closed barriers for pedestrians, cyclists and car drivers.
Your benefits
Every 15 minutes, fast and environmentally friendly across Vienna (West-East connection)
A direct and fast west-east connection from Hütteldorf to Aspern Nord with links to all 5 underground lines and connections to the major hubs at Hütteldorf, Meidling and Vienna Central Station
Barrier-free and easy access to the public transport network through two new stops (Hietzinger Hauptstraße, Stranzenbergbrücke) and a modernised stop (Speising) with a link to tram and bus as well as covered bicycle storage areas at all three stops
First modern and comprehensive noise protection along the Connecting Line
No more waiting in front of closed barriers (currently 15-20 minutes per hour)
Permanently available, barrier-free railway crossings for pedestrians, cyclists and motorised private transport
New bridges over the Wiental; renewal of railway bridges in Hietzing, wider/higher road subways in Penzing