We promote a wide variety of species and stand for biodiversity.
Already today, numerous railway green spaces serve as natural oases and retreats for animals and plants worthy of protection. With the ÖBB Rail Bees project, the bee in particular is given a place. Its habitat is flowering meadows - a treasure that is sufficiently available to ÖBB along the railway and is now being given a special role for our bees.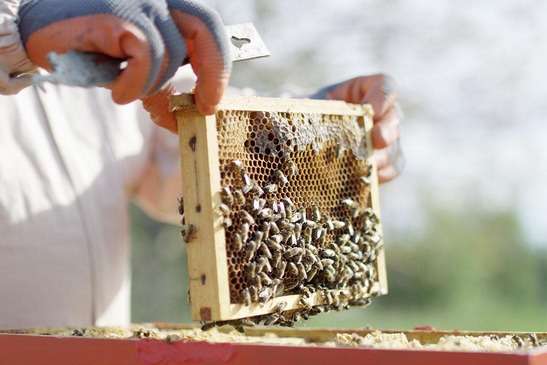 Love for animals
So far, twelve ÖBB properties throughout Austria are being used as bee sites. In cooperation with a network around the beekeeper Markus Bleich (beehero.at), the areas will be equipped with bee houses and the bee colonies will be settled. He takes care of the animals' well-being and the appropriate maintenance of the landscape. The areas are thus used sustainably and biodiversity is promoted - at the same time we get delicious organic honey: our ÖBB Schienenhonig (rail honey).
An oasis for Rail Bees
With the appropriate green space management and the bee houses, a fruitful cooperation between nature, people and the railway is created. On the one hand, green spaces close to the railway line or stations are transformed into true oases for bees and insects, and on the other hand, this patch of earth is cultivated and managed in an ecologically sustainable way. This not only creates space for our Rail Bees, but also supports other insects, arachnids, birds or small mammals. This in turn helps nature to flourish.
The bee houses of the ÖBB Rail Bees are distributed throughout Austria: in Lower Austria, in Burgenland, in Salzburg, Upper Austria and in Tyrol.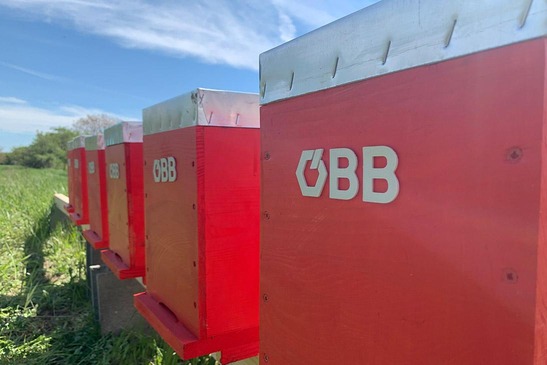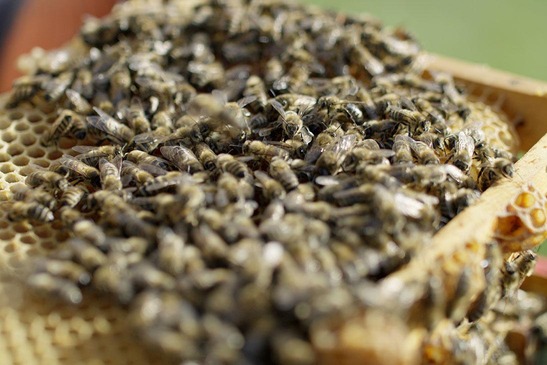 Natural product ÖBB Schienenhonig (rail honey)
Our rail honey is a real natural product. The bees need their time to produce the honey. Because: only under appropriate conditions and in harmony with nature can the good organic rail honey be produced. The liquid gold is available to those with a sweet tooth in the ÖBB Webshop and in railway bistros. The journey of the honey also leads into the trains of ÖBB. Passengers can enjoy ÖBB Schienenhonig for breakfast or as a treat in-between in Railjets and Nightjets.
Our little star
A large-scale campaign was launched in 2021 to draw attention to the climate and species protection project: with success! The demand for our honey is great, so great that we are making more areas available for our little stars this year. The bee filling station - an oversized ÖBB logo in the shape of a honeycomb - will be set up again this year and planted with bee-friendly vegetation. This time at Praterstern 4.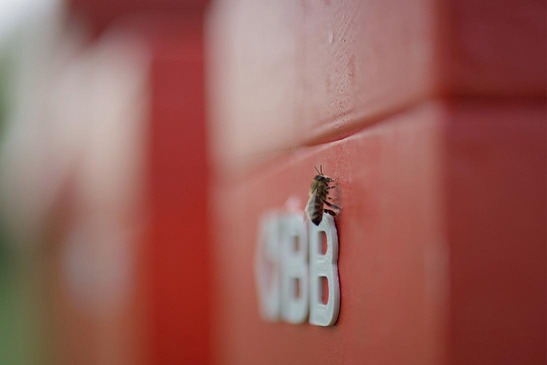 The floating bee at Vienna Central Station
With our floating bee in the main hall of Vienna Central Station, we set a visible sign for all our measures and efforts in the field of biodiversity and species diversity. The numerous eco-initiatives are particularly visible in rural areas - because this is where the important habitats and retreats of numerous rare animal and plant species are located along the railway. With the numerous flowering and compensation areas, a fruitful cooperation between nature, people and the railway is created.
Making-of video in media gallery
Did you know that ...
A bee colony consists of about 60,000 worker bees, a few hundred drones and a queen - all living in ONE hive.
A worker bee produces two teaspoons of honey in its four to five weeks of life.
The collection area of a colony is almost 50 km2 in size.
Queens can live up to 5 years and lay 1200 to 2000 eggs a day during the summer.