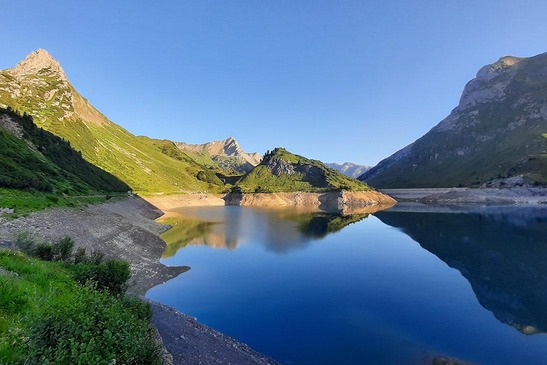 100 % Austrian renewable energy
Due to its structural design, the power plant - together with the power plant Braz - is able to ensure the traction power supply in the whole of Vorarlberg, if required. It can balance peak loads in the traction power grid can be used for stabilising the ÖBB power grid. The Spullersee power plant therefore not only produces 100 % Austrian renewable energy, but also acts as a motor for the regional economy.
Facts & Figures
Power 36 MW
Location: Lechquellengebirge, Vorarlberg
Under construction, in operation 2021
Project duration approximately 2 years
Traction current 16.7 Hz
Construction process
In order to optimise the plant as efficiently as possible, numerous preparatory measures have already been implemented since autumn 2019. Among other things, an access tunnel was constructed so that the aging pressure pipelines could be replaced. Furthermore, the supports for a material ropeway required for the construction, were positioned and a protective enclosure for the Arlberg Railway Line was set up. Apart from other small-scale development measures, the officially required lake emptying followed in January 2020. The main construction measures started in summer 2020. The construction of the new tunnel pipe and the dismantling of the existing pressure pipelines to the powerhouse are predominantly focused. The pipelines will be replaced by a pressure pipe, which will be laid in the ground and therefore will no longer be visible in future. This work is extremely challenging, as the work has to be carried out on terrain that is up to 40° steep and inaccessible. Several metres of snow and temperatures far below freezing are the norm for the specialists here.
The work on the pressure pipeline is scheduled to be completed by spring 2021. After that, the Spullersee power plant will go into trial operation with 36 MW of expansion capacity - equivalent to the original capacity of the power plant.
Gains for the region
The expansion of the Spullersee power plant is not only positive for climate protection, but also a benefit for the economy in Tyrol and Vorarlberg. The eastern bypass will create up to 40 new jobs in these two provinces. In addition, the reconstruction work will also generate direct added value of 16 million euros. This money remains in the region.