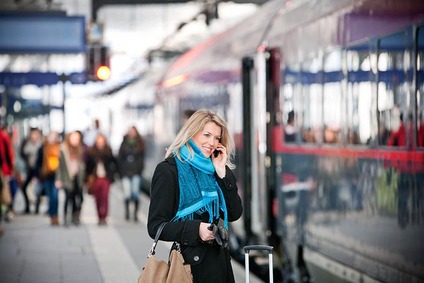 Network expansion
Keyword: Digitalization. We are used to making phone calls, sending text messages, receiving emails, surfing the internet and using social media. Around 1.500 kilometres of the railway network will be upgraded to seamless 2G (GSM), 3G (UMTS) and 4G (LTE) coverage in order to allow mobile broadband services, such as access to social media, to news, to audio and video services, or to spend time on work or entertainment. With an investment package of EUR 100 million, ÖBB together with the Federal Ministry and with the three mobile network operators A1, Drei and T-Mobile, is improving mobile coverage along the most important railways lines in Austria. In addition, railway stations are being equipped with WLAN.
Improved mobile communications
red = phase 1; blue = phase 2
Mobile communications and health
For upgrading the mobile communications infrastructure, existing masts and other infrastructure along the railway lines will be used as much as possible. New sites will be built exclusively on ÖBB property. The sites are connected to the fibre optic network of ÖBB-Infrastruktur AG, which offers speeds of up to 600 Mbit/s per site and which meets the latest mobile communications standards. Measures for upgrading coverage along the railway lines and for improving the safety of railway operations and the mobile communication services on board the trains imply, that the antennas are orientated along the railway lines. The three mobile network operators A1, Drei and T-Mobile strictly adhere to the internationally valid guidelines of the World Health Organization (WHO), which are also subject to binding application in Austria in conjunction with ÖVE/ÖNORM E8850. The maximum permissible values specified by WHO are scientifically acknowledged and form the basis for your and our safety.