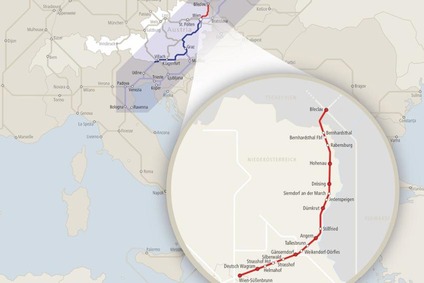 Important artery
The 66 kilometre-long section between Vienna Süßenbrunn and Berhardsthal in Lower Austria makes the Northern Line an important part of the Southern Line and therefore of the Baltic-Adriatic and of the Orient/East-Med Corridor.
The line comprises nine railway stations and ten stops, making it an important artery between the north of Lower Austria and the federal capital. Above all the upgrade focuses on how you benefit as a railway customer.
For our passengers, the modernisation of the Northern Line represents a significant time saving. The extension of the North Line allows for higher train frequencies as well as a denser high-speed train service between Vienna and Gänserndorf. In long-distance traffic, the travel time from Vienna to the South Moravian border town Břeclav will be reduced to about three quarters of an hour. Prague will be reached much faster - with the extension of the northern railway and further expansions in the Czech Republic, the journey time will be three hours and 45 minutes.
Your benefits
Modernisation of 17 railway stops/stations
Accessibility
Shorter journey times
More "S-Bahn" frequency
Noise protection
Extension Park&Ride and Bike&Ride
More safety by eliminating railway crossings