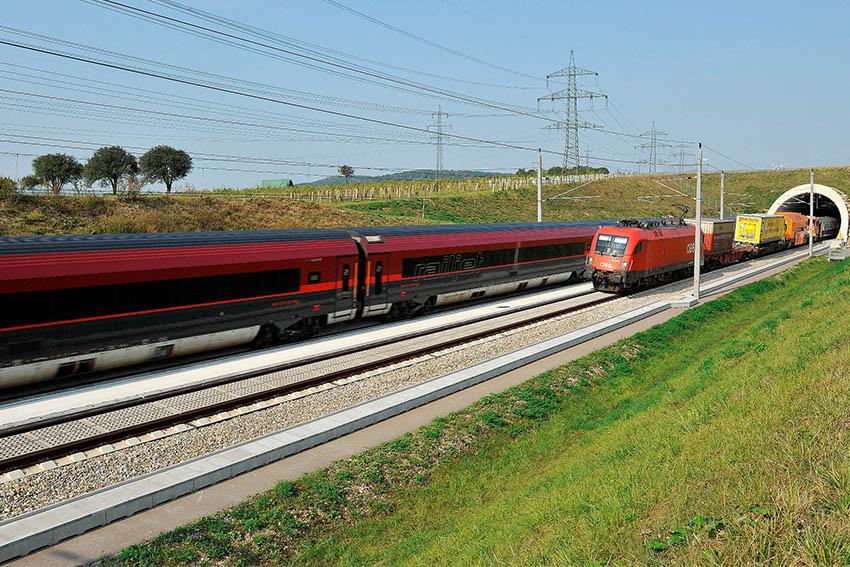 Unrivalled journey time
A new era for travellers began with the commissioning of the section between Vienna and St. Pölten. The journey time from Vienna to St. Pölten has since been unequalled at just 25 minutes. This means that since 2012 passengers have also been able to reach Linz and Salzburg considerably faster.
Below-ground connections
More than half of the newly built high-speed line between Vienna Meidling and St. Pölten runs through a total of eight tunnels, one of which is the well-known Lainz Tunnel. Through this tunnel, both goods and passengers can reach the city centre railway stations and freight terminals underground, and therefore faster.
New railway station Tullnerfeld
In the centre section of the route, the new overtaking section and a regional railway station was built at Tullnerfeld, offering possibilities never before imagined for the Tullnerfeld area. The cities of Vienna and St. Pölten can now be reached from here by train in no time at all. The new Tullnerfeld railway station is designed to be light, inviting and functional. 500 Park&Ride parking spaces supplement the offer for combined private and public transport.