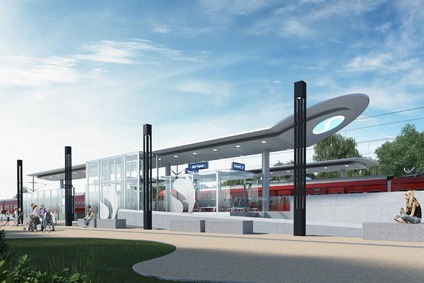 Easy access to the railway is a decisive factor for convincing you, our passengers, to travel with the Salzburg rapid transit system. Bad Vigaun lies on the route of the S3 rapid transit line, which runs every thirty minutes daily between Freilassing, Salzburg Main Station and Golling. Since completion of the rebuilt stop, you enjoy barrier-free access to the covered platforms as well as an attractive bicycle and pedestrian underpass for an easy and safe way to cross under the tracks. A good public transport link is very important for the region. The conversion of Bad Vigaun and the removal of the railway crossing was a community project of Salzburg province and ÖBB-Infrastruktur going back many years. It was implemented in close coordination with the municipality. The new stop is another piece in the efficient local transport system of Greater Salzburg.
Park&Ride facility is a plus for commuters
The newly created Park&Ride facility makes the transfer to public transport even more attractive. As a commuter, you can reach now the platforms and the area of Langwies safely, conveniently and above all accessibly.
Your benefits
Barrier-free access to the trains
Removal of the rail-road conflict through the new underpass
Linking of rail and car with a P&R facility
Part of the efficient Greater Salzburg local transport system