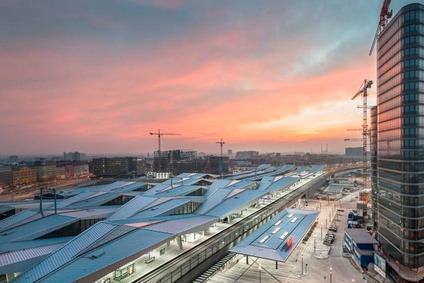 More trains, shorter journey times and easy transfers: The new Vienna Main Station makes travelling by train even more convenient for you. Trains from all points of the compass can arrive and immediately depart again at this modern through station. As a result, Vienna has become an important hub in the European rail network.
BahnhofCity with shops, restaurants and more
The light-drenched station building impresses with its spacious, friendly ambience and a wide range of services. The 90 or so shops and restaurants of BahnhofCity at Vienna Main Station are a great place to spend some time. The Main Station is perfectly connected to metro, rapid transit, tram and bus services. Passengers can park their car in one of the 600 parking spaces available.
A new city district for 30,000 people
With an area of 109 hectares – about the size of Vienna's 8th district – Vienna Main Station is one of the biggest infrastructure projects of recent decades. Apart from the railway station, the project also includes the development of a whole city district. From 2020, around 30,000 people will live and work here. Vienna Main Station is part of the station initiative of ÖBB-Infrastruktur. Across Austria, more than 100 railway stations and stops are being modernised or built from new.