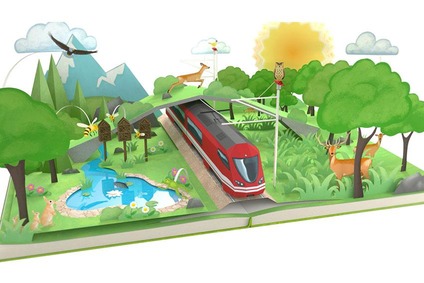 Protection of species
ÖBB-Infrastruktur is always taking numerous measures to conserve Austria's natural resources: Embankment greening with regional seeds, planting of old fruit trees, river restoration, construction of green bridges for wild animals, installation of protective caps for birds on power lines, creation of spacious, ecological compensation areas and much more besides. But often even small pockets of nature are enough to offer bees, butterflies, beetles or birds a place to live. So the courage to take action pays off for nature – we just have to do it.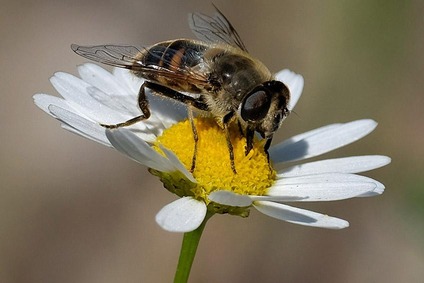 Biological diversity
Biological diversity, also known as biodiversity, encompasses the diversity of species of living organisms, their gene pool and habitats. It is one of our most important foundations of life and has an impact on many areas such as nutrition, raw material supply, health and security against natural disasters. ÖBB-Infrastruktur has long been committed to the protection of rare plants and animals. Railway embankments, biotopes created in the course of new construction projects, etc. are important habitats and areas of retreat for many species. Here bluethroat, mockingbird, beaver and the like find a home and food.
Important habitat
The areas we own alongside the railway are important habitats and retreat areas for many animals and plants. We manage 2,700 hectares of protective forest, look after railway embankments and rocky surfaces and implement measures to conserve the biodiversity.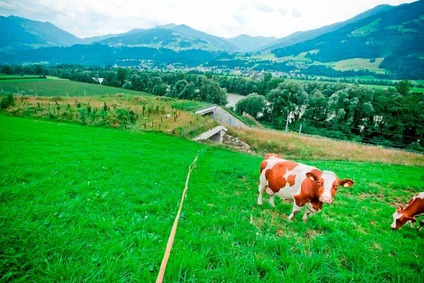 Grazing sheep and goats
We also use our four-legged friends to help us maintain green areas. Sheep and goats love grazing in our railway embankments. This helps against lignification and has also introduced non-native plants (so-called neophytes) to the areas. This has the potential to damage railway systems or clog drainage systems. The positive effect is evident in various grazing projects, some of which have been backed up by scientific research. Unwanted plants are contained to the embankment and a closed, diverse grass and herb cover is created.
Transkript des Videos zum Nachlesen

Beweidungsprojekt Koralmbahn
Filmaufnahmen, Protagonisten erzählen eine Geschichte

Es wird ein Bauernhof mit einem Ziegenstall gezeigt. In diesem Stall leben 14 Tiere.

Sprecher 1: Ich bin der Jäger Seppi und komme aus der Gemeinde Magdalensberg. Ich bin Bio-Landwirt und engagiere mich, in Kooperation mit dem Maschinenring und der ÖBB, für ein Beweidungsprojekt südlich von Klagenfurt. Wir beweiden aktuell eine Fläche von zirka 6.000 Quadratmeter mit 14 Tieren. Die Herde ist zur Hälfte gemischt. Die Herde besteht aus Ziegen und Schafen. Der Staudenknöterich ist mittlerweile für die ÖBB ein riesiges Problem geworden. Mit den Schafen und Ziegen haben wir eine sehr gute Alternative gefunden, um den Staudenknöterich, ohne Chemie verwenden zu müssen, zurückzudrängen.

Sprecher 2: Das Problem bei dieser Pflanze ist, wenn man sie mit dem Mähgerät mäht, entstehen Bruchstücke und diese Bruchstücke können wieder austreiben und dies führt dazu, dass in relativ kurzer Zeit die Böschung bewachsen ist. Dadurch entsteht eine Monokultur. Ein weiteres Problem ist, dass dadurch die Bewässerungsanlagen verstopfen und bauliche Anlagen geschädigt werden. Wir haben 2014 damit begonnen zu überlegen, wie wir diese Pflanze auf natürliche Art und Weise bekämpfen können. Nach einigen Überlegungen und verschiedenen Varianten die möglichen wären, haben wir uns schlussendlich für eine Beweidung mit Ziegen und Schafen entschieden. Wir haben von Beginn an versucht mit wissenschaftlicher Begleitung zu arbeiten. Es geht darum, dass man durch Botaniker und Vegetationsökologen feststellen lässt, ob und wie die Vegetation auf die Beweidung reagiert.

Sprecher 1: Die Kooperation mit den ÖBB und dem Maschinenring ist auch für meine Tiere eine ausgezeichnete Sache, weil wir einen super Nutzen für die Allgemeinheit und die Tiere darstellen.

Sprecher 2: Es war früher üblich an den Bahnböschungen Tiere zu halten, da gab es dieses Problem mit den zuwachsenden Flächen noch nicht. Wir versuchen diese alte Tradition wieder ein bisschen aufleben zu lassen.
Natural hazard management
When it comes to railway security requirements, we consider our environment particularly carefully. In a mountain region like Austria with 5,000 mountain torrents and 3,700 known avalanche points, railway lines pass through many areas affected by natural hazards. Vital, stable forest stands, avalanche barriers and torrent controls protect our rail infrastructure from floods, mud flows and avalanches.